Invisalign® Info
It's never been easier or more affordable to have your teeth straightened using the most cutting-edge clear aligner system available on the market. As a certified Invisalign provider, we can help you get the smile you've always wanted.
It's important to know why you should use Invisalign.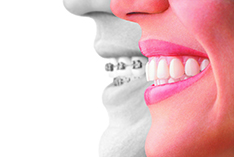 Faster treatment is on the way: As a result of weekly aligner adjustments, you may get the smile you want in less time. The time between aligner adjustments may be extended if your therapy progresses well.
Proven Results: Dental mobility may be better controlled with Invisalign clear aligners because to the SmartTrack® material and SmartForce features.
Better fit: SmartTrack material is easier to put on and take off, making it more convenient.

Effective: Straightening teeth using Invisalign clear aligners is possible for a wide range of dental issues, including overbite and underbite as well as crossbites, crowding, open bites, and gapped teeth.

Virtually Invisible: It's almost impossible for anybody to tell that you're using Invisalign aligners since they're so invisible!
Comfortable: Invisalign clear aligners can be removed and replaced, making them both pleasant and convenient. There are no restrictions on your regular activities, including cleaning and flossing your teeth and eating anything you choose.
Convenient: It's easy to fit Invisalign treatment into your busy schedule since you just need to come in every six weeks.
Getting Started with Invisalign
Your Initial Orthodontic Consultation
During your initial visit, we will discuss your orthodontic needs to see whether Invisalign treatment is right for you.
Your Individualized Treatment Plan
With the aid of iTero® digital scanning devices, 3D pictures of your teeth may be made fast and correctly. As part of this procedure, we will create a precise treatment plan that includes the exact movements of your teeth as well as the duration of your therapy. Your teeth will change, allowing you to see how your new smile could look.
Your Clear Aligners for Invisalign
Your custom-made aligners will be built using Invisalign's SmartTrack® material. Because they are practically unnoticeable, wearing them for teeth straightening will not bring attention to you.
Remove your Invisalign trays only when you eat, brush, or floss.
You're Making Progress!
Your teeth will gradually migrate into their right place when you put on a fresh set of aligners. Our team of orthognathic dental specialists may propose a new pair of aligners every week and a checkup every six weeks or so.
How to Keep Your Newly Restored Smile Looking Great
Once your treatment is complete, speak with your orthodontist about wearing a Vivera® retainer. They were made utilizing the same cutting-edge manufacturing techniques as Invisalign transparent aligners.
Invisalign and other orthodontic treatment options are available at our clinic. Please contact to arrange a consultation. In the meanwhile, we want to meet you and get you started on the road to a beautiful, healthy smile!
Invisalign and the Invisalign logo, among others, are trademarks of Align Technology, Inc., and are registered in the U.S. and other countries.